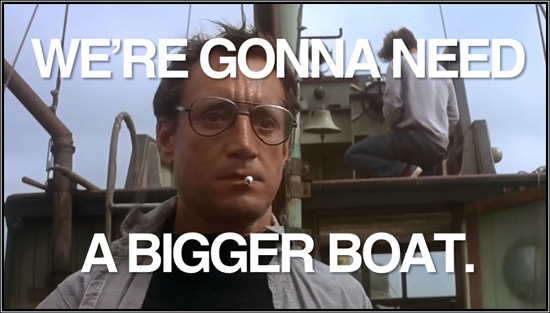 Before we roll up our sleeves and get to the yeoman's work let's take an inspection of the Fen Hydra stat block. This thing is in bad shape. A DM with 4e experience is going to notice some glaring problems right off hand. First, what the heck is all-around vision? This property is explained on some monsters (like the beholder) and was forgotten on others. All-around vision means PCs cannot gain combat advantage on the creature through flanking, super important thing to know about a solo as it means the hydra can mix it up in melee without always granting CA when the party surrounds it.
The HP is high, it's a solo brute after all. I'm loathe to take the ax to HP prior to the table as a DM. Interest in solo fights deteriorates at an individual pace depending on the solo, the party, and how combat goes. I like to alter and trim HP at the table where I have more insight about what's going on, hell I'll even add HP to the monster if it furthers what I'm trying to accomplish. If I was going to have a rule of thumb for trimming solo HP in the planning stages I would take ½ of the less interesting/dangerous side of bloodied. Some monsters gain new powers or better damage when bloodied, some lose powers or auras when bloodied. Since the general problem with solos is they are not a threat for their entire tenure, cut the bit where they're less imposing and conversely their danger time will seem longer in proportion while having less HP overall.
Speed, the Fen Hydra is slower than your average PC meaning it won't be able to slip around them and it doesn't have any neat trample tricks to bowl over the party. It does however have a nice swim speed. As the name suggests put this creature in a watery area like a fen, moor, bog, swamp, flooded caldera, atoll, etc. If you need to put it on land just give it a better speed so it can actually distance itself from a PC in a turn if needed. Maybe reward those elves with their base speed of seven squares by matching it.
Threatening Reach! One of the few things going for it is the Fen Hydra has threatening reach, use it to push those ranged attackers into corners and bring the hurt when they start slinging spells, bullets, and bolts.
Melee Basic Attack. The Fen Hydra is a one trick pony. Unfortunately its one trick is terrible. Anyone with a cursory knowledge of 4e can look at the MBA's damage and tell it's on par with a PC of level 1-4. This is a PARAGON TIER SOLO MONSTER, damage output unacceptable. Jump over to the Dungeon Master's Guide, page 42. If you have never used this page shame on you as it is probably the best page in the whole book. It's worthwhile to actually print out and keep with your DM supplies. The Fen Hydra's MBA targets one target and does terrible damage with no ongoing poison or effect. As you can seen from the table it does the lowest normal damage for something of its level. Bump up the MBA's damage to 2d6+5. This is the single most useful improvement made to the Fen Hydra.
Hydra Fury and Many-Headed, because of changes I'm going to make to how the monster functions as a whole I'll skirt over these. It's of note that Many-Headed shows and attempt early on in the game mechanics to deal with status effects and their plague to solos. Granted it's poorly worded but as a DM you may want to flag this page or make a note of the property as it is something you could easily tack on to other creatures to make them more potent baddies.
The Fen Hydra has a swim speed and a halfway decent bonus to stealth, use it. Don't let a good perception check wreck the surprise, play it as a large ripple in the water, a Nessie sighting, or even an iconic movie scene. Big Bad Evil Guys should never just be hanging out in a room waiting for the party to show up. Don't give them monologue diarrhea, but do give them a moment to posture and make their entrance to the scene. They are part of the dramatis personae for your adventure after all.
The Nitty Gritty 
So the first problem acknowledged for solos is they are designed to act as normal creatures but meant to fill the shoes of five normal baddies. How do we fix this, rather than redesign the Fen Hydra from the bottom up let's just have it emulate five normal baddies. Simple solutions are the best right?
That means we roll the same number of initiatives as the party. Fighting a party of four PCs, roll 4 initiatives and now they're fighting 4 different creatures with a shared HP pool (remember to adjust the solo's HP depending on the size of the party. A party of four PCs should fight a solo with 4/5ths its HP). Just like a normal creature your four solo initiatives gets a Standard, move, and minor action. It gains a saving throw at the end of each initiative turn as normal. The solo should also gain a use of any immediate interrupts/reactions between each of its initiative turns as described. Assign different attack powers to each initiative as possible. I chose the Fen Hydra as an example also for its simplicity, because it only uses MBAs. Discard any power that allows the solo to make a combination of other attacks as one action (Hydra Fury). By increasing the number of turns the monster acts in the round we have already compensated for limited attacks.
Increasing the number of turns a creature has in a round greatly enhances the solo's ability to adapt to situations and be a reckoning force in the encounter. Combat is no longer the solo's turn and then five PC turns as they make complex strategies with impunity. It also means the solo has multiple chances to save out of status effects per round. This is counterbalanced by the creature taking multiple stabs of ongoing damage per combat round. Ongoing 10 poison damage can easily deal 50 damage to the solo per combat round if the DM rolls garbage saves. But to be fair most solos gain a +5 to saves so you're BBEG is not likely to get slain by ongoing damage. As a result of these changes PC EoNT powers will typically be more powerful than Save Ends powers as they function off the PC's turn and not the solo. Still, having five actions while Dazed is preferable to one.
What initiative might look like before and after implementing these changes: 
Before
Generic Rogue
Generic Warlock
Fen Hydra
Generic Wizard
Generic Fighter
Generic Cleric
After
Generic Rogue
Fen Hydra 1
Generic Warlock
Fen Hydra 2
Generic Wizard
Fen Hydra 3
Fen Hydra 4
Generic Fighter
Fen Hydra 5
Generic Cleric
Or…
Generic Rogue
Fen Hydra 1
Fen Hydra 2
Fen Hydra 3
Fen Hydra 4
Fen Hydra 5
Generic Warlock
Generic Wizard
Generic Fighter
Generic Cleric
As you can see there is a marked improvement in the flow of combat from Example 1 to Example 2. Example 3 may happen, depending on rolls and the initiative bonus of the solo versus the bonus of the PCs. You can just delay a few initiatives of the solo on the first round to better intersperse with the party or decide to keep things as they are and bring the hurt. Example 3 gives you the perfect opportunity to bring the hurt to the PCs, remind them this is a Big Bad Evil Guy. This is the combat the entire party will unload their saved up daily powers, no need to check brake or saw the reins on this combat. Punish the defender for the sheer amount of idiotic hubris it takes to go toe-to-toe with a BBEG and mark it. Unload it all on the fighter in five consecutive initiatives and give him the KO. Step over his mangled form and let out a bestial roar to put the fear of god in the party. If you're really big bad and evil maybe your Fen Hydra (after dumping 10d6+25 on the fighter) knocks the mangled body aside into the bog and his heavy armor quickly drags him to the bottom putting him out of line of sight for healing and leaving him to drown. Now someone gets to heroically dive into the water and drag the fighter to safety as the rest of the party deals with the solo.
In general as rule the DM wants to avoid picking a target and 'Nuking' them. But with solos if someone marks it, meaning he compels it to attack him to the exclusion of others, you're authorized weapons hot to exterminate the target with extreme prejudice. It's a five on one fight and the PCs are going to unload their dailies without pulling punches so take every opportunity available to play dirty and make sure the party isn't going to walk away from the battle unscathed.
General Rules for Better Solos
Initiative quantity equal to the number of PCs in the adventuring party (5 PCs, 5 Solo Init.)
Each initiative slot gains the normal action economy (Standard, Move, Minor) and makes saving throws at the end of each initiative per ongoing condition/effect.
Discard any power that allows for a combination of other powers to be used as one action.
Assign an attack power to each initiative. Exhausted encounters or recharge powers that don't recharge on their initiative sub in melee basic attacks.
MBAs can be subbed as a standard action on any initiative.
Any At-Will immediate action can be used once between each Solo initiative as applicable.
Actions Points should be used to pull the solo's butt out of the fire or to spark a combat beginning to lull.
Optional Rule for Even Better Solos
Divvy HP equally to each initiative slot.
Damage/Effects dealt by a PC affects the next, upcoming initiative slot.
When reduced to zero HP the initiative slot is removed.
PCs can make Called Shots on a specific initiative slot. Target gains a +5 to defenses against the called shot.
Or you can always just freehand beefing individual solo monsters. If I was just focused on making the Fen Hydra more memorable I would bump its damage as noted and have it start combat with 1d4 heads. At the start of each round it gains a new head, which applies to Hydra Fury and Many-Headed. A battle of attrition will not end well for PCs, they need to kill it as quickly as possible.
You've seen how to change a simple solo monster like a Fen Hydra, but for illustration lets do an iconic, more complex creature. The Young Red Dragon (MM1, pg 82) is a Level 7 Solo Soldier. Give it five separate initiatives to beat up on the generic five person adventuring party. Immediately remove Double Attack.
Initiatives: 
Init 1: Breath Weapon | MBA

Imm. Reaction: Tail Strike

Init 2: Frightful Presence | MBA

Imm. Reaction: Tail Strike

Init 3: MBA

Imm. Reaction: Tail Strike

Init 4: MBA

Imm. Reaction: Tail Strike

Init 5: MBA

Imm. Reaction: Tail Strike
Now the Young Red Dragon has two different MBAs (you can tell MBAs because they have the circle around the sword melee emblem) Bite and Claw. Now if something seems too powerful to use every turn it probably is. Bite does 4d6+6 damage, doing that five times a combat round is going to TPK your encounter. You probably only want to use Bite once a round so just pencil it in as the default attack for Initiative 3 and use Claw as the general MBA attack. If the party gets a little complacent don't be afraid to bust out a few uses of Bite in a round, it's technically an MBA after all.
It took me far longer to physically type the above changes to Young Red Dragon than determine them. This is a very simple way to beef up your solo monsters that can easily be done at the table with minimal to no pre-planning for solos of all types and tiers; also perfect when cold running a published adventure.
So let me know if you try it and how it worked out for you. Contact me by comment, email, Twitter, G+.