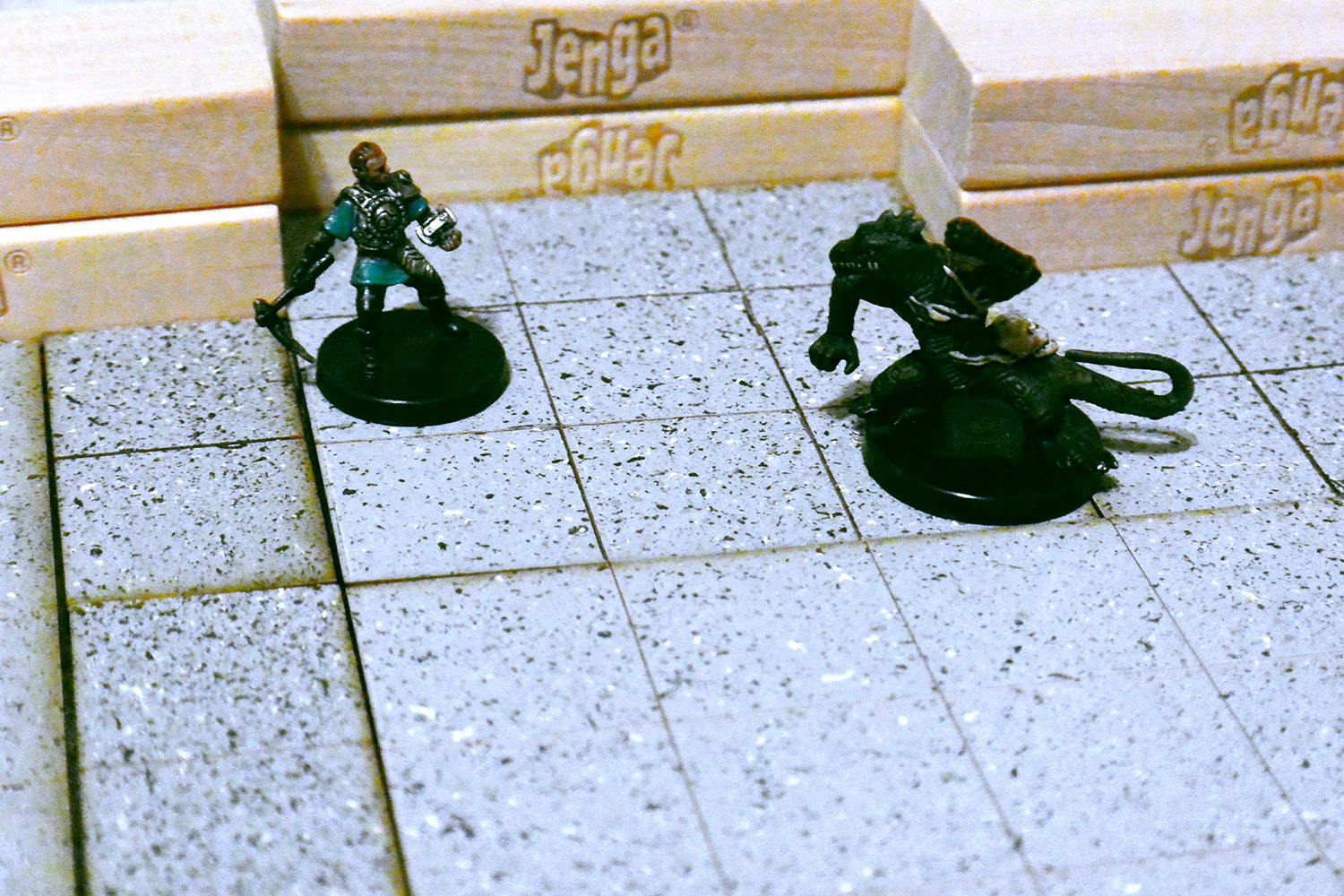 Have you heard of Blue Panther LLC? I hadn't either until just recently. I stumbled across them honestly because of Free Comic Book Day (May 3rd). I've never been a comic book person, but it did remind me I needed to look up the date for Free RPG Day (
June 21st
). Hopefully I won't utterly forget it like I do Game Master's Day (
March 4th
) every year.
So while looking up Free RPG Day, there is a handy short list of the free goodies that will be arriving at your local FLGS. A lot of it is the standard fare, one-shot adventures, quick start rules, a few paltry accessory offerings, etc. What did catch my notice was the Meeple mini dice tower by Blue Panther.
I hadn't heard of Blue Panther before so I hopped over to their website. They're in Michigan, they have a laser engraver, they use said engraver to fulfill print-on-demand orders, usually in wood.
What I liked looking through the website was their Dungeon Terrain ($20). Anyone familiar with modular dungeon tiles? Same thing but they're not printed high gloss images on heavy card stock but plain grey on 3mm thick wood. The 1″ grid is engraved into the tile surface.
Contents
2 5×5″ rooms

2 4×4″ rooms
4 3×3″ rooms
2 2×2″ rooms
6 1×5″ halls
6 1×4″ halls
9 1×3″ halls
6 1×2″ halls
15 1″ squares
Pros
– It's modular dungeon terrain, perfect if a wet/dry erase mat isn't your deal
– It's birch plywood so you don't have to worry about bending/warping them in transit
– Blue Panther goes the extra mile by slapping some stone texture on the pieces to really up the table visual
– Multiple base colors & custom base colors available at no extra charge
– Every piece is general purpose, you can run any scenario and nearly every scenario with one purchase.
Cons
– Like other modular terrain it's light and prone to sliding around on flat surfaces during play
– It's still THIN wood (3mm), liable to break if you get rough with it
– The engraved grid is difficult to see at any sort of distance
– Paint coverage, many of my pieces didn't get a good shot of paint along the edges*
– Every piece is plain, you'll have to find a different way to denote stairs, changes in elevation, and blocking terrain in a room
– No 2″ wide halls
*This is subjective. I liked the look more because it gave a stained tile grout look between the pieces that screams dilapidated dungeon to me. But it appears unintentional rather than intentional, thus Con.
Analysis
If I've only got $20 budget for my whole DM/GM budget I'm still going to buy a Paizo GameMastery Flip-Mat (maybe even 2 for $20). Between Dungeon Terrain and other modular offerings you'll be hard-pressed to find anything that does the job better for the price.
The Dungeon Terrain is light, durable, and looks good. If you have a problem with tiles sliding around, invest in some cheap shelf liner. You can either drape the liner over the play surface or cut and glue it to the back of individual pieces, works like a charm. I also suggest a fine-point permanent marker or black paint wash to fill in the engraved grid to make it more visible.
The biggest failing in my eyes is the lack of 2″ wide hall pieces. Contemporary dungeon design uses 2-3″ wide hallways rather than 1″. I have to get a little too creative with my pieces to make 'T' and Cross intersections of 2″ wide halls (which are pretty common).
If you're looking to get the most out of Dungeon Terrain I suggest pairing 1-2 Dungeon Terrain sets with other modular terrain to get yourself plenty of 2″ wide halls and specialty pieces (stairs, dais, doors, etc). While you're out, pick up an off-label Jenga game and some spray paint with stone texture to make some walls. Just that extra vertical dimension really adds something to the visual and makes it feel like you're looking down into a room.
The conclusion? Blue Panther's Dungeon Terrain is a solid offering and definitely has a place with my gaming goods. I think it's a great gift idea for any GM/DMs you know.
You can pick up Dungeon Terrain at Blue Panther's website:
under Dice Towers & Accessories. They also offer a host of other products that may pique your interest. Like and leave a comment if you would like to see more reviews and special features in the future.